On January 13, 1913, on the campus of Howard University, 22 dynamic African-American women founded Delta Sigma Theta Sorority, Incorporated, on the principles of sisterhood, scholarship, and service. At its inception, the Founders envisioned an organization of college women pledged to serious endeavor and community service. These young women wanted to use their collective strength to promote academic excellence and provide assistance to persons in need. These youthful students demonstrated a vital concern for social welfare, academic excellence, and cultural enrichment.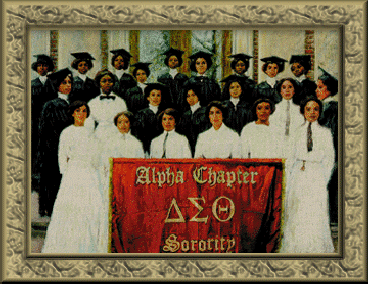 Our courageous Founders:

| | |
| --- | --- |
| Osceola Macarthy Adams | Jimmie Bugg Middleton |
| Marguerite Young Alexander | Pauline Oberdorfer Minor |
| Winona Cargile Alexander | Vashti Turley Murphy |
| Ethel Cuff Black | Naomi Sewell Richardson |
| Bertha Pitts Campbell | Mamie Reddy Rose |
| Zephyr Chisom Carter | Eliza Pearl Shippen |
| Edna Brown Coleman | Florence Letcher Toms |
| Jessie McGuire Dent | Ethel Carr Watson |
| Frederica Chase Dodd | Wertie Blackwell Weaver |
| Myra Davis Hemmings | Madree Penn White |
| Olive C. Jones | Edith Motte Young |
These students demonstrated a vital concern for de-emphasizing the social aspect of sorority life. Their ideals have withstood the test of time. Surviving on the strength of its sisterhood, today Delta Sigma Theta is a non-profit organization providing programs and services to improve society. Commencing a long tradition of public service, the Founders of Delta Sigma Theta represented Howard University in the women's suffrage March of 1913.

Our Founders had the wisdom and the foresight to know that there was, and would always be, a need for Black women to be politically aware and involved. The first public act performed by Delta's Founders was the Women's Suffrage March in Washington, D.C. (It was held on the eve of Woodrow Wilson's inauguration.) on March 13, 1913. They were the only group of black women to participate in the woman's suffrage march only two months after the sorority's inception.

Today, Delta Sigma Theta Sorority, Inc. remains a service sorority dedicated to public service, and remains at the forefront of accomplishments for blacks and women. Delta Sigma Theta Sorority, Inc. is unparalleled in terms of accomplishments as a whole, as well as those of individual members.

With a growing membership of over 250,000 women, Delta Sigma Theta Sorority continues to attract the brightest college educated women. Delta Sigma Theta has been shaped by its members who have committed to a lifetime of public service. The Sorority's initiatives are based on its Five Point Programmatic Thrust. Delta continues to serve the community in numerous capacities providing services and programs to promote human welfare. The Sorority's new initiatives are carried out under the leadership of 24th National President Cynthia M. A. Butler-McIntyre and the National Executive Board.
The Annapolis Alumnae Chapter of Delta Sigma Theta Sorority, Inc., formally known as the Gamma Omicron Sigma Chapter, was chartered in 1948 by the Eastern Regional Director, Muriel Jenkins. Five members of Delta, Sorors Lois D. Randall, Muriel Holland, Ruby C. Simms, Sylvia G. Richardson, and Mary C. Brown, chartered the local chapter. The members of the Annapolis Alumnae Chapter have carried the torch of the Founders by implementing programs in the Five Point Programmatic Thrust. We have made and continue to make significant contributions to the community through seminars; job fairs; college fairs; and tours of Annapolis, museums, and college campuses. Scholarships to graduating seniors have been presented through the Muriel Holland Scholarship and the Minority Scholars Award which recognizes students with a high grade point average. In addition, the chapter continues to sponsor forums and partnerships with other community agencies to provide HIV/AIDS awareness and services, and school supplies for needy students.
Through the chapter's Jean Sparrow Camperships, youngsters are sent to summer camps. We have supported residents of the Crofton Convalescent Center and summer camps for students with juvenile diabetes. Also, contributions were given to the Lighthouse Shelter, the Parole Health Center, the Anne Arundel County Medical Center, Sojourner Douglass College, and the Galesville Community Center. The Betty Shabazz Delta Academy provides academic, social, and technical resources to help prepare young girls to be successful in the 21st century. The Delta G.E.M.S. program is a continuum of services that address the needs of young African American women between the ages of 14-18. The goals of the program are to instill in young women the need to excel academically - sharpen and enhance their academic skills, set goals, and plan for their future beyond high school. Delta G.E.M.S. are active in service learning and community service projects.
Our members have served as guest readers and youth mentors in schools, churches, and organizations throughout Anne Arundel County. Regular contributions are made to the Boys and Girls Club of Annapolis, and the Catherine S. Bias Keep-a-Kid In School Fund which provides eyeglasses, shoes, coats, and transportation to area students. The chapter has adopted area families to provide food, clothing, and finances throughout the year. The Annapolis Alumnae Chapter of Delta Sigma Theta Sorority, Inc. holds life memberships in the NAACP, National Council of Negro Women, and the Banneker Douglass Museum. Chapter members are actively involved in efforts to enrich, impact, and serve the communities of Annapolis and Anne Arundel County.